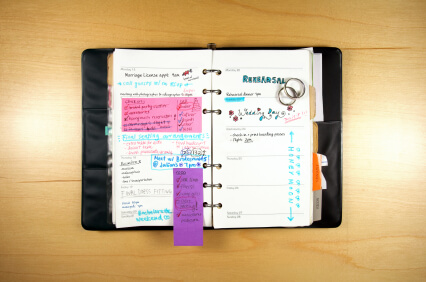 Make sure you don't make these wedding-planning mistakes!
When planning their special day, brides tend to put a lot of pressure on themselves, and everyone involved, to make the day absolutely perfect. What you need to remember is that even though your wedding is one of the most important days of your life, it's just ONE day. Savor the days leading up to your wedding as well. Your engagement is a very special time. Don't spend it stressed out and anxious! Besides, stressing leads to overeating, which is never good for a bride-to-be.
A lot of brides tend to overspend in a big way. I have seen wedding budgets double over the course of a long engagement. Remember, you do NOT want to start your marriage off broke. Think ahead, and make sure you won't need the money to buy a house, car, or pay your bills before you spend it.
We hate to say this, but it needs to be said! Too many brides buy dresses that are a size too small. A lot of times, wedding dresses tend to run small, so if you wear an 8, you might need a 10. I know that it would boost your confidence to squeeze into a smaller size, but your fat pockets hanging out just aren't flattering. You will feel better about yourself if you look good– who cares about a number on your dress. (Just cut out the tag!) Plus, you want to be able to dance the night away with your new hubby without feeling too sucked in!
Once you get your mother and mother-in-law involved, they will have you inviting everyone you've ever met and never cared to see again to your wedding! Brides tend to go crazy inviting too many people, which is a bad idea for several reasons. First of all, you will end up spending too much on invitations and postage… especially when you invite those people that you know have no intention of coming. Secondly, you are paying for a plate of food for each person you invite. Third, you don't want to waste an hour of your reception (especially if you are limited on time) greeting people whose names you don't even remember!
Sometimes, stress causes a bride-to-be to start obsessing over the small details– the color of the napkins, the font on the placeholder cards, or whether to throw rice or birdseed. Before you start going crazy on the details, ask yourself these question: Does this specific thing really matter to you? Will you remember it in 5 years? Will it make or break your wedding day? If you answer no, then let it slide.
One of the most common mistakes of wedding planning is when brides-to-be become too controlling. Remember– it is your fiance's wedding day too! Men act like they don't care, but they do– and they SHOULD! They most likely won't care about flower colors or whether or not you curl your hair, but there are certain things that they will want. And they should be at least partly involved in the wedding planning process.
When people get overwhelmed, they tend to put things off. And that is why many brides procrastinate! Take advantage of your engagement to get things done a little bit at a time. Plan ahead, and take care of the major things way in advance so that if there is a problem, you will have plenty of time to deal with it!
A classic mistake brides-to-be make is ticking people off who are involved in the wedding planning. Your wedding planner, mother, sisters, and bridesmaids are there to help you, but don't let the power go to your head. Remember—you can catch more bees with honey than you can with vinegar!
Some brides will never admit to this mistake… but it happens all the time! They choose ugly bridesmaids' dresses to make themselves stand out! DON'T LIE… you know it's tempting! But the only person it really makes look bad is you… and if you don't want them to steal the show, don't give people a reason to gossip about them.
It is CRITICAL that you do not make this last mistake… Don't get so involved about planning your wedding day that it makes you forget what this day means. This is the beginning of your life together. Make this time exciting; you won't regret it.
Take our "Are you a Bridezilla" quiz if you are guilty of some of these typical mistakes.