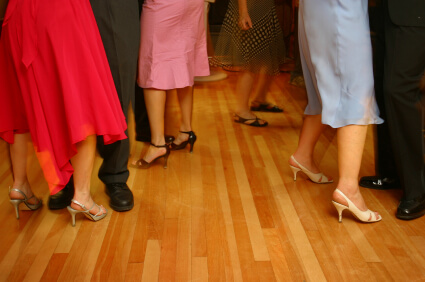 Want a wedding reception no one will soon forget? In a lot of ways, a great DJ is the key to a great reception! Find out how to choose one that is right for you.
The DJ usually sets the mood for your wedding reception. So what do you want that mood to be? Fun? Upbeat? Romantic? You need to find a DJ that can express that mood to your guests.
Start by getting recommendations from your family and friends. If you have attended a reception with an awesome DJ, try to get his name and information. If you don't have any leads, you can look in our directory.
The importance of a first impression:

There is nothing worse on your wedding day than a boring DJ! When you meet with the prospective DJ, does he seem upbeat and enthusiastic? Most good DJs are outgoing and energetic.
You also need a DJ that is willing to give you want you want on your big day. Is he willing to listen to your suggestions, needs, and wants? Make sure you feel like he is right for your wedding reception when you meet him.
The questions to ask a potential DJ in an interview:
– What is his price?
– What is the price of overtime?
– Will he need to be fed?
– What is in his music library?
– Can he play your song requests?
– Does he have a video demo?
– Does he have customer testimonials?
Things to know:
– Some DJs cost $200 and some cost $2000… but don't automatically go with the cheapest OR assume the most expensive is the best.
– Make sure that the DJ has the songs you want played. It doesn't matter if they have 50,000 songs if you don't like any of them!
– Make sure the contract includes the correct date, time, location, and price before you sign it!