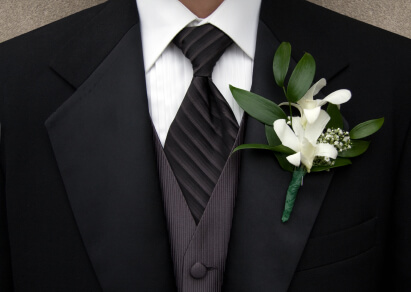 TOP 5 WAYS TO GET THE GROOM INTERESTED IN WEDDING PLANNING
Most men are simply not going to be as excited about or interested in planning a wedding! So for you brides-to-be, here are some tips for getting your honey involved.
Let him be in total control of something. One thing that may turn off a groom-to-be from even talking about the upcoming wedding is when his bride won't let him make any decisions. Ask him his opinions about music, seating, colors, etc. and if he feels strongly about something, let him have his way.

 

Tell him that he can decide on what kind of groom's cake he wants all by himself. You can even let him decide the music that is playing while it is being cut. He can arrange it all himself, which is one less thing you will have to worry about.

Play to his strengths. If he loves music, get him to help pick a band, a DJ, or the songs that you want played. If he is into technology, let him create a wedding website that tells your guests all of the information they need to know about the wedding. Find something that he likes, and get him excited about it.

One thing a man is always going to be concerned about is MONEY! You most likely won't have any trouble getting your guy to sit down and create a budget with you. Make sure you have some prices of local wedding vendors handy to show him the average costs so he won't underestimate the price. (Check out our

wedding business directory

—which is currently being populated).

They say the way to a man's heart is through his stomach. And nothing motivates men quite like food can! Let him take a part in choosing the menu for your guests. A man is not going to tolerate eating something he does not like on his wedding day! Also, you won't have to drag your fiance to cake tastings. It's all about finding things to motivate him to get involved.
And remember, once your man puts effort into planning your wedding, he is not going to want to let anything fall through the cracks. If you let him get excited about it, you will have him helping you with all the mundane details in no time!