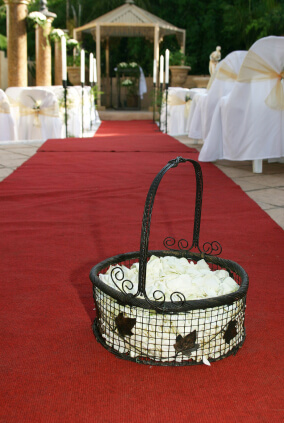 COLORS: Red & gold. Only bold and dramatic colors fit a Hollywood theme.





FLOWERS: Ranunculus. Big, bold, and beautiful, these flowers have the star quality you need for this theme!
ATTIRE: A mermaid gown with a chapel train. A short bubble veil will compliment the look perfectly.
LOCATION: A glamorous indoor setting such as a ballroom. Don't forget your red carpet!
CAKE: Couture wedding cake. A classy, couture cake with red and/or gold accents.
MENU: A sit-down dinner with only the finest foods. Serve steak and/or lobster, and don't forget the wine!
OTHER IDEAS:
– Don't forget your red carpet!
– Leave your reception VIP-style in a stretch limo!
– Place disposable cameras on each table and let your guests know they are your paparrazzi!
– Don't forget to hire a videographer!