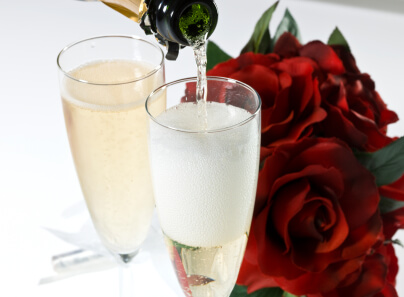 Just in time for Valentine's Day, this wedding theme is perfect for a romantic day! Think roses, wine, and candles…

COLORS: Reds & pinks. Use Valentine's Day as your inspiration to pick romantic wedding colors.



FLOWERS: White, red, and pink roses. Nothing is more romantic than roses.
ATTIRE: A flowing wedding dress with an empire waist & sweetheart neckline. You can add flowers in your hair for a nice touch.
LOCATION: A church or outdoor setting would be most romantic. Include a lot of flowers and candles. Have the flower girl sprinkle red rose petals down the isle.
CAKE: 3-layer with a heart-shaped top tier. You can have it decorated in many ways with red and pink roses. Sprinkle rose pedals around the cake for a beautiful look.
MENU: An Italian sit-down dinner. Include stuffed mushrooms and Italian meatballs for your appetizer. Serve a ceasar or Tuscan garden salad. Your main course options can include chicken marsala and eggplant parmigiana. Make sure to offer wine as well.
OTHER IDEAS: For this theme, you should definitely write your own wedding vows. (Read our related article: The Secret to Writing your Own Wedding Vows). Have your wedding party read love poems for a romantic touch.
A romantic ceremony should include a lot of slow dancing. Play love songs or have a live band.
Finally, leave your wedding in romantic style by riding away in a horse drawn carriage. Europe would be a fabulous honeymoon getaway!