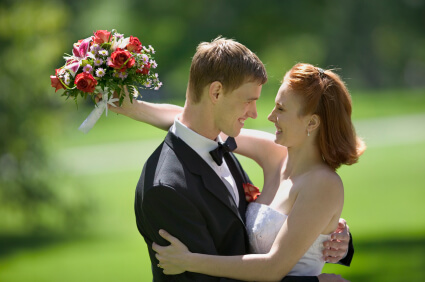 "Going green" is becoming such a popular catch phrase in our society today. People in general are becoming more environmentally-conscious. So why not incorporate this trend into planning your wedding day? There are a lot of ways you can have the wedding of your dreams while being friendly to the earth!
Use wildflower seed packets for your wedding favors! (MyWeddingFavors.com) Inspiring your guests to do something for the environment sends a beautiful message on your wedding day. It is an inexpensive favor that stands out!
Have an outdoor ceremony & reception, and use the sun's light instead of electricity. If you want to have an indoor ceremony and/or reception, use energy-saving light bulbs or candles.
Hire a completely acoustic band to play. This can add a romantic and unique touch to any wedding reception, and the best part is that it is completely environmentally-friendly!
Create an email RSVP option. You'd be surprised at how many guests will use this instead of traditional snail mail. And the less paper that is used, the better it is for the earth!
Let guests throw birdseed or rose petals instead of rice as you and your honey are leaving the reception. This is a very popular fad already and much safer for the poor little birdies!
Tell your guests to forget wrapping your gifts; you're going to throw away the wrapping paper anyway! It is actually quite pointless and a complete waste. Another idea is to request they wrap the gifts with newspaper.
If you are very into the environmental movement, you can opt to have all organic food served at your reception. This can be quite pricey but a great way to stand out, be healthy, and be an environmental activist!
Keep your wedding decor eco-friendly by not using disposable decorations like confetti. Use flowers, plants, and cloth napkins & tablecloths.
Send invitations on recycled paper. Why waste the paper if you don't have to? Another idea is to email your invitations… at least to the people that are email users.
Make your wedding car a green car! Rent an electric or hybrid vehicle, and make a statement as you leave your wedding reception.
Whether you use all of these ideas or just a handful of them, there is no day like your wedding day to make a statement about being environmenally aware!