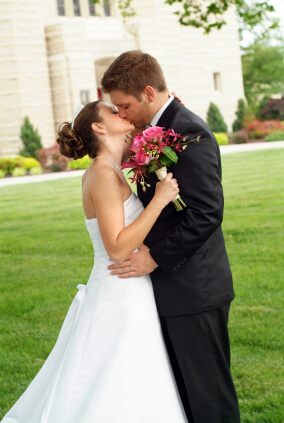 Don't let your wedding be just like any other. Below are 6 ways of putting your own personal touch on your special day.

Create a picture slideshow for your wedding reception! Nothing looks as fancy and personalized than a video of you and your soon-to-be hubby over the years. It can start with baby pictures then include pictures of the two of you together. It is unique and definitely entertaining.
Edit a "Dating Story" video for your wedding reception! No one will forget your wedding if you include a segment featuring you and your honey's love story. Be sure to include individual and joint interviews and some old home movies and pictures of the two of you.
Include personalized music for each person in your wedding party to be introduced! Choose music that fits everyone's personality so they can have a moment to shine. This is always a fun addition to a wedding.
Have a live band or musician! Nowadays, this is a rare treat. The type of music you listen to definitely shows a part of your personality, and your pick for a live band or musician will give your wedding a personal feel.
Use small frames with a picture of you and your fiance as the favors! No one will forget whose wedding day it is with this as a favor! And they can always replace it with a picture of their choice when they get home.
Personalize your vows! Most weddings include similar vows so writing your own is really the best way to express what the day means to YOU.
Any other ideas about how to personalize your wedding day? Leave us a comment.