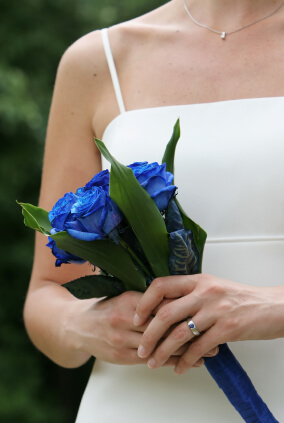 Wedding season is coming soon! Do you have your something blue? Here are some "hot items" we found at  AmericanBridal.com.
Blue Keri Earrings: If you want a subtle but fashionable "something blue," these charming earrings are a great choice!
Blue Leilani Pearl Necklace: Pearls are in! And if you are looking for something more fashion-forward than ivory, your "something blue" can be this trendy necklace.
Personalized Canvas Handbag 3 in 1: If you need something blue but would rather not be wearing it, this adorable handbag has your name on it– literally. Best part? It converts into different colors and styles so you will use it way after you say "I do."
Spa Comforts Herbal Hugs Kit: Perfect for the pampered bride! If you are in need of some pre-wedding relaxation, this kit will definitely do the trick!
Bridal Shower Guest Book: This cute keepsake will stay with you forever. Have all your bridal shower guests leave their messages in style!